Used Rifles
Custom Winchester Model 70 Stainless in 7mm Remington Magnum. 23" stainless Lothar Walther barrel and original Ted Blackburn stainless bottom metal. Tuned action with sculpted rear tang and custom accents to the safety lever, bolt and floor plate releases. Custom-made stainless bolt handle with 5 panel checkering by the late Ralph Bone. Custom NECG Classic stainless swivel studs. EAW Quick-Loc Pivot Mount with 30mm rings (Scope Not Included). Customized Classic McMillan stock with cheekpiece. 13 5/8" LOP. 7.5 lbs without scope. Other pictures available on request. Custom built by Mark Cromwell of NECG. $2,750.00 w/o scope.

Merkel Helix Explorer in 9,3x62. This unfired Helix is ready for anything you can throw at it. 21" barrel weighing in at only 6.5 pounds. 14" LOP. Factory sights and swivels. No box or papers. Like New, "Safe Queen", out the door for $2,795.00

Jaeger Sporter in .270 Winchester. SOLD
Custom Stainless Winchester Model 70 Classic in .35 Whelen. 21.5" Lothar Walther barrel and Sunny Hill stainless bottom metal. Custom-made stainless steel bolt handle, barrel band swivel and rear swivel stud. Blued Masterpiece Banded Ramp, fiber optic bead and window hood. Quarter Rib with See-Thru rear sight. Scoped with a Schmidt & Bender 4x36 with #1 Post reticle in a German Claw mount. Customized McMillan Stock. Engraved by Frank Conroy. Bolt handle checkered by the late Ralph Bone. 13 3/4" LOP. 9 lbs 2 oz. Other pictures available on request. Unique one of a kind piece by Mark Cromwell of NECG. $5,500.00

Odds & Ends

Gebruder Merkel 302 Combination Gun w/ Extra Shotgun barrels. 16ga./ 9,3x72R & 16/16 gauge 2 barrel set produced in 1933. Extensive game scene engraving on the side plates with Holland & Holland ejectors. 26" Combination barrels (Full choke / .026") with Lyman All-American scope in German Claw mount. Combination weighs in at 8 lbs. 28 3/8" 16 gauge shotgun barrels choked Full (.030") & Xtra Full (.044"). O/U Shotgun weighs in at 6 lbs 6.4ozs. LOP to steel buttplate 13 9/16". More pictures available upon request. Great piece of Pre-War history. $6,950.00

Krieghoff Plus Drilling, 16x16x7x65R, 2 full length EL 65 .222 Remington Insert barrels, 14 3/4" LOP, Leupold 2-7 scope. 10 lbs 5 ozs. Excellent Condition: $7990.00 Reduced to $7550.00

Marlin 336 in .35 Remington. 20" Micro-Grooved barrel. Early pre-crossbolt safety with JM barrel stamp. Bore is in very good condition. Light character marks on the metal and wood. Other pictures available upon request. All original. $425

Used Shotguns
AYA No.1 Case Colored 16ga. 28" barrels choked Improved Cylinder & Modified. 14 3/4" LOP, 1 1/2" Drop at Comb & 2 5/16" Drop at Heel 1/8" Cast Off. 6 pounds 5 ozs. More pictures available upon request. Has some character markings. Currently a new No.1 is priced at $13,890+.. This gun is priced at $8,900.00 Reduced to $8,495.00

AYA 4/53 20ga. 28" barrels chokes Improve Cylinder and Modified. 14 7/8" LOP, 1 3/8" Drop at Comb, 2 5/16" Drop at Heel, 3/16" Cast off. 6 pounds. More pictures on request. Very good almost new condition. $3,600.00

Browning Superposed "P" Series 4 Barrel Set. 12ga, 20ga, 28ga and .410. 1978 gun with 28" barrels each with choke tubes. 12ga barrels are ported. Extensively engraved with gold inlays. Exhibition grade wood. Drop 1 1/2" & 2 5/16" with 1/8" Cast Off at the Heel and 1/4" Cast at the Toe. 14 1/4" LOP to checkered butt. 7.6 pounds. Browning case included. More pictures available upon request. Very Nice Gun $15,995.00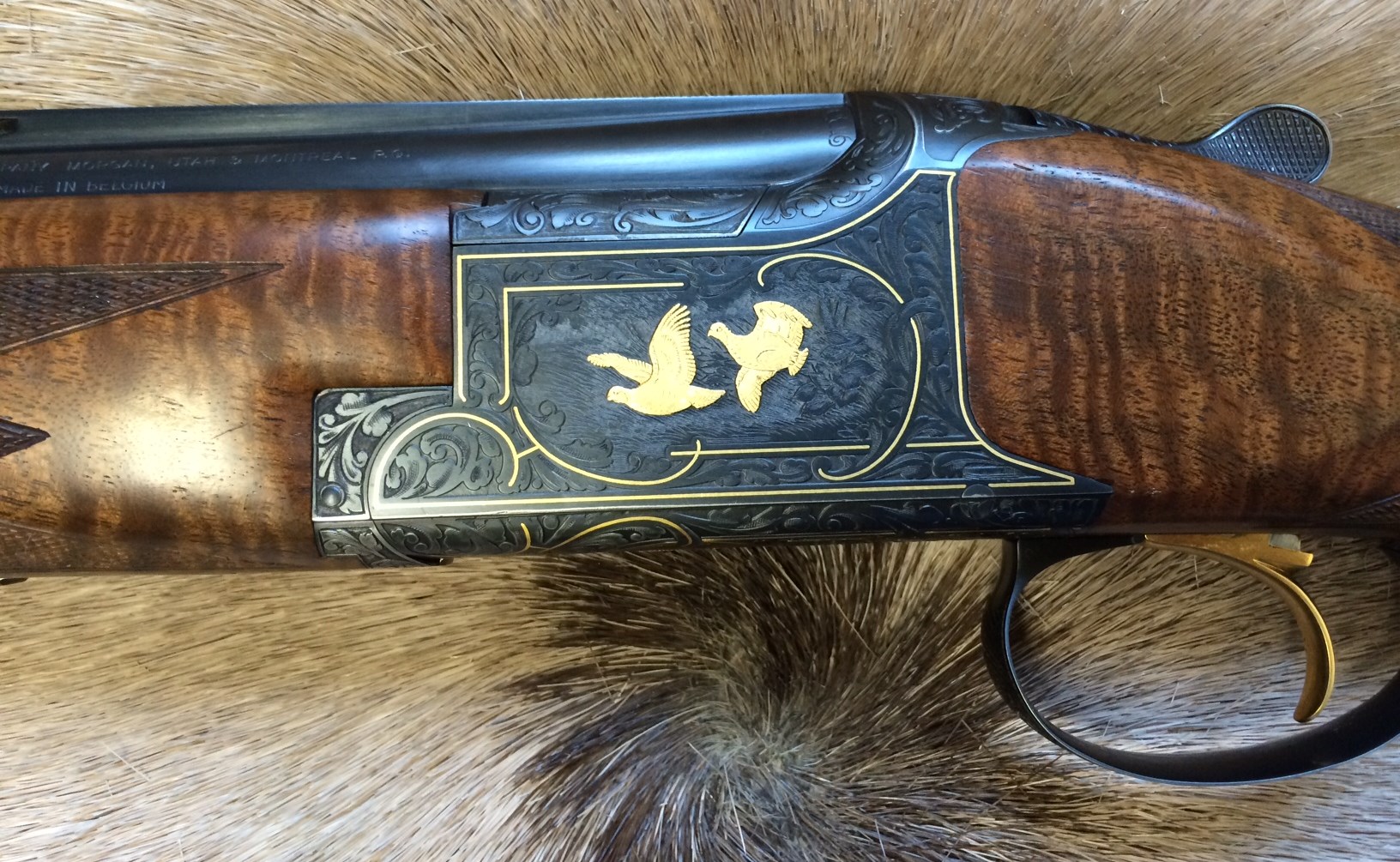 AYA Model 217 20 Gauge. 26" ventilated rib barrels choked Improved Cylinder and Modified. 1968 gun with original box. Claims to be never fired. Character marks on wood and metal from years of handling but never in the field. Selective Single Trigger. Pistol grip and Semi-Beavertail forend. 14" LOP to buttplate. 6.8 pounds. $2,995.00 OBO.


NEW COOL STUFF
The HOWDAH .45 Colt / .410. The Howdah Pistol is a Davide Pedersoli reproduction of the famous "Auto & Burglar" model made by the Ithaca Company around 1920. This modern version of that classic firearm has 10 1/2" double barrels chambered in .45 Long Colt / .410 shotshells. The Howdah features a tang safety, manual shell extractors, flip-up rear sight with silver front bead, case colored action and checkered walnut stock. A true attention getter and a blast to shoot! $1,450.00