Used Rifles
Custom Stainless Model 70 Classic in .35 Whelen. 21.5" Lothar Walther barrel and Sunny Hill Stainless Bottom Metal. Custommade stainless steel Bolt Handle, Barrel Band Swivel and Rear Swivel Stud. Blued Masterpiece Banded Front Ramp with Claw Mount & 1/4 Rib. 4x36 Schmidt & Bender. Customized McMillan Stock. Engraved by Frank Conroy. Bolt handle checkered by the late Ralph Bone. Other pictures available on request. Unique one of a kind piece. $7,995.00

Early NECG Custom Sporter in .30-06. SOLD!! New home found!!
SAUER 202 w/ McMillan Stock .30-06 23" plain barrel, steel Medium action with gray McMillan stock. 1 owner and never used in the field only range fired. Comes with Warne scopes bases and an extra magazine. 8.0 pounds. 13.5" LOP. Not many built like this one. Very good shape and Reduced to $1,550.00

RF Sedgley of Philadelphia Springfield Sporter .30-06 24" barrel with banded ramp. Lyman rear aperture sight with Griffin & Howe Side mount and Leupold 2.5x Extended Eye Relief scope. Classic style stock with no cheekpiece and 3 panel grip checkering. 13 3/8" LOP to Trap Door steel buttplate which holds the Lyman aperture slide. Overall good clean condition.True classic sporter. Reduced to $1,995.00

Odds & Ends
Winchester Super Grade O/U Combination Gun, 25" barrels in 12ga. 3" x .30-06. 14" LOP. Detachable scope mount with 1" rings. With Winchester Take-Down case. 8 lbs 4 ozs. Overall Good Condition: $3,900.00

Simson Drilling, 12ga. x 12ga. x .30-06. 15" LOP, Zeiss Diatal-Z 4x32 in German Claw mounts. 8 lbs 8 ozs. Very Good Condition: $6,590.00

Krieghoff Plus Drilling, 16x16x7x65R, 2 EL 65 .222 Remington Insert barrels, 14 3/4" LOP, Leupold 2-7 scope. 10 lbs 5 ozs. Excellent Condition: $7990.00

Used Shotguns
AYA No.1 Case Colored 16ga. 28" barrels choked Improved Cylinder & Modified. 14 3/4" LOP, 1 1/2" Drop at Comb & 2 5/16" Drop at Heel 1/8" Cast Off. 6 pounds 5 ozs. More pictures available upon request. Has some character markings. Currently a new No.1 is priced at $13,890+.. This gun is priced at $8,900.00

AYA No2 RA w/ "Old Silver" finish. SOLD!!!
AYA 4/53 20ga. 28" barrels chokes Improve Cylinder and Modified. 14 7/8" LOP, 1 3/8" Drop at Comb, 2 5/16" Drop at Heel, 3/16" Cast off. 6 pounds. More pictures on request. Very good almost new condition. $3,600.00

Browning Superposed "P" Series 4 Barrel Set. 12ga, 20ga, 28ga and .410. 1978 gun with 28" barrels each with choke tubes. 12ga barrels are ported. Extensively engraved with gold inlays. Exhibition grade wood. Drop 1 1/2" & 2 5/16" with 1/8" Cast Off at the Heel and 1/4" Cast at the Toe. 14 1/4" LOP to checkered butt. 7.6 pounds. Browning case included. More pictures available upon request. Very Nice Gun $15,995.00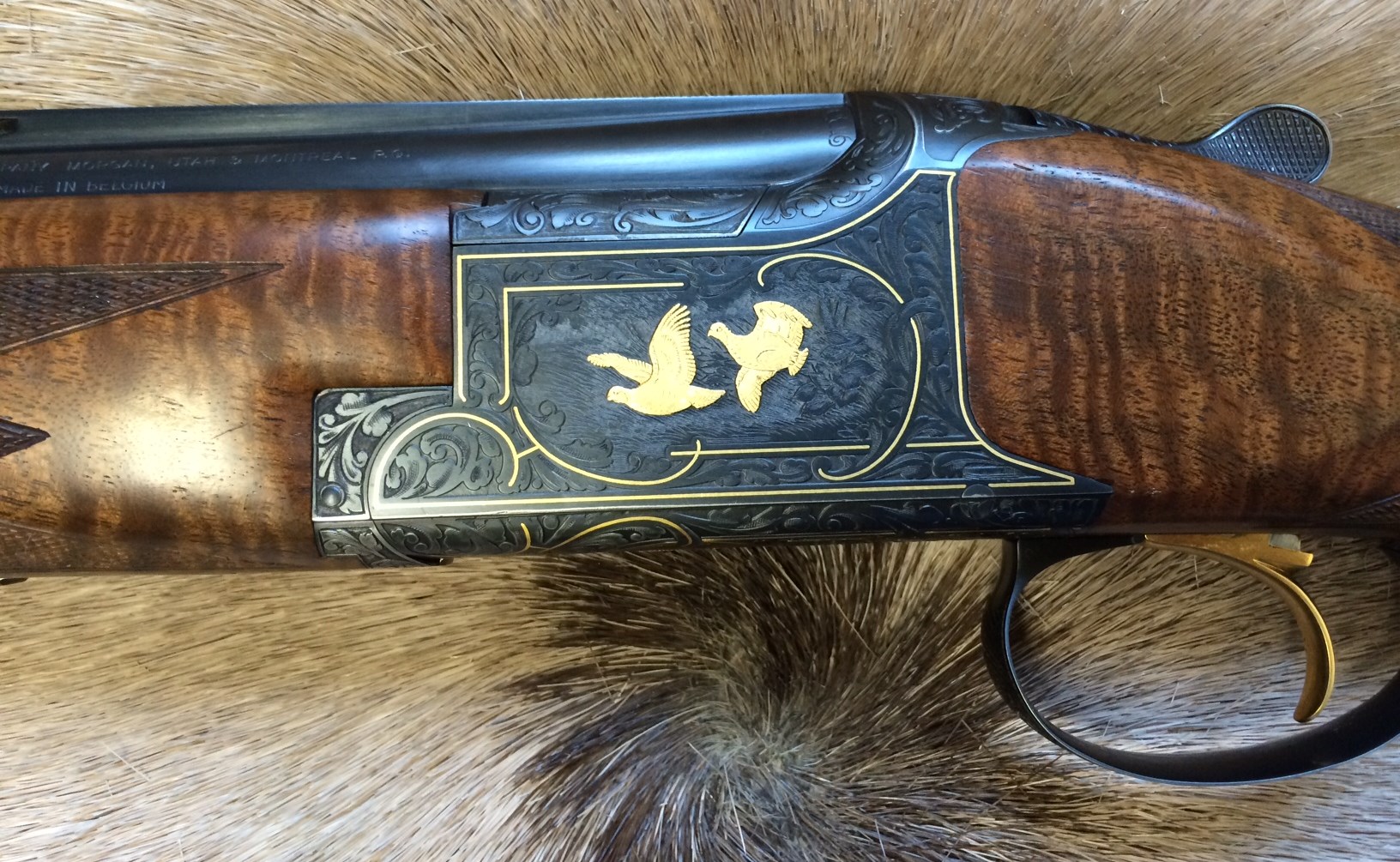 AYA Model 217 20 Gauge. 26" ventilated rib barrels choked Improved Cylinder and Modified. 1968 gun with original box. Claims to be never fired. Character marks on wood and metal from years of handling but never in the field. Selective Single Trigger. Pistol grip and Semi-Beavertail forend. 14" LOP to buttplate. 6.8 pounds. $3,900.00 OBO.