Founded in 1998 by Dietrich Apel, who is also the founder of New England Custom Gun Service, the German Gun Collectors Association answers a long-standing need for a source of information, research, and fellowship for those interesting in the collecting and shooting of German hunting and sporting guns.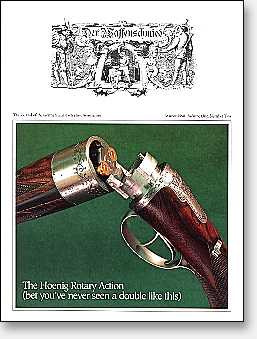 Annual membership in this non-profit group is a nominal $36 per year (U.S. & Canada; $50 overseas). It includes a subscription toDer Waffenschmied ("The Gunmaker"), the Association's attractive and information newsletter (published in English).
Participation is encouraged by all members, including providing photographs, data and stories on any German sporting arms they own or know about. Ultimately, the Association will develop extensive archives and databases where members can research their guns and German gunmakers.
The GGCA also offers an extensive list of books, publications and special reprints of historic catalogs related to the history and identification of German hunting and sporting guns.
The group also conducts tours to Germany, attends a number of shows around the country, and structures its activities according to member interest.
To join or for more information, contact:
German Gun Collectors Association
P.O. Box 385
Meriden, NH 03770
Tel (603) 469-3438
Fax (603) 469-3800
www.germanguns.com
e-mail: jaeger@valley.net
Dietrich Apel
It is safe to say that Dietrich has forgotten more about guns than most people ever know.
Born in Germany, Dietrich literally was born into the business. He started his apprenticeship over 50 years ago under his grandfather, Franz Jaeger, in whose house and factory he had grown up. Dietrich escaped East Germany before the wall went up in Berlin, coming to the United States to work for his uncle Paul Jaeger as gunsmith and stockmaker.
Dietrich subsequently joined Bill Ruger at his New Hampshire factory as assembly manager. He undertook several special projects, including prototype work on the Ruger over and under shotgun.
In 1977, he returned to Pennsylvania to take over the management of Paul Jaeger, Inc. It was under Dietrich's direction that Jaeger rifles and gunsmithing reached new heights of quality and reputation. In 1986, he founded New England Custom Gun Service in New Hampshire.
Dietrich's experience with fine rifles and shotguns covers a half century. As you might expect, he is particularly knowledgeable about German and other European firearms. Dietrich is regarded by his peers as one of the true experts in the gunmaking and gunsmithing industry.